Astro Mk2 (R) Optimistjolle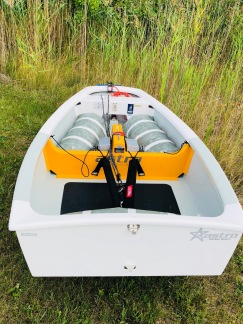 Pris:
0 kr
Inkl. 25% Moms
Art.nr:
P1780559
Beställningsvara
Kontakta Swewind för information om pris, leveranstid och färger.
Tas endast hem på beställning.
The ASTRO Optimist, are the result of many years of experience* in sail competition, and in production* of technical composites. We apply both to build high-level hulls for the Optimist Class.
k2(R):
Introduced in October 2015, the ASTRO Mk2(R) Edition is the logical consequence after 5 years building and improving our successful ASTRO Mk1(R). We improved some raw materials and optimized few of our building procedure mainly to gain on better traceability and repeatability. This hull is our last development for the class and has already been highly successful since the beginning.
Features:
-Hull and Gunwale in "Snow WHITE", Mid-ship Frame
See palette
*, Inner hull face "Ash Grey" and Anti-skid area "Graphite",
-Low friction DELRIN deck collar with tapered, and fore-aft oval inner diameter, for maximum mast rake,
-316SS lightened mast step with rake spring looking system,
-Daggerboard retaining system,
-43 Lts. IODA'95 ligther buoyancy bags,
-Kiwi style padded hiking straps, with loops for lifting shock-cord,
-316SS rudder fittings,
-Braided tow line with 316SS safety hook,
-2 x 3,5 Lts. bailer secured with shock-cord,
-Paddle secured with shock-cord.